Leading Whole-organisation purpose
A crash course in Whole-Organisation Leadership converging everyone and everything towards optimising value creation for customers and stakeholders
Amsterdam: Hilton Double Tree - June 8 & 9 2023
Discover the power of value framing and leading the purpose of your organisation systemically
Kathelijne Drenth, Donald Lancaster, Co-facilitated by Danielle Beltran, Richard Leachman (remote), and Bauke Zeilstra
Organisations must deliver unique, optimal customer and stakeholder experience to ensure viability and vitality. Only if built on the organisation's core purpose of value creation can this experience be satisfying their customers and stakeholders needs. Where customers do not recognise value, both intrinsically and financially, then the organisation fails. Leading Whole-Organisation Purpose empowers leaders, and boards, teams and organisations to organise continuity and create value sustainably, making a true difference today and in the future, in a world of constant change.
For CEO's/ senior leaders, presidents or boards of (non)-executives, Financial experts, Senior consultants
This course is for those who want to understand how to lead Whole-Organisation Purpose and want to fully engage people with it to overcome silo phenomena and problems. Those who want to move beyond silo-sub-optimisation by unlocking the potential for unique integral value co-creation and purpose performance at peak, paving the way to a valuable impactful future.
The aim of Leading Whole-Organisation Purpose
The aim of 'Leading Whole-Organisation Purpose' is to enable you to grow the organisation's consciousness around its core purpose of co-creating and delivering unique customer experience for the benefit of all stakeholders. It is increasingly difficult to maintain planned customer and stakeholder experience within our fragmentary world of constant change. 'Leading Whole-Organisation Purpose' truly inspires the co-creation of unique meaning and value throughout your organisation 'from silo to whole', 'from generic to unique' and 'from root to fruit'. Working with the core principles of strategic purpose in your organisation, provides flexibility and agility around the core, and enables everyone in the organisation to live the uniqueness of your business in everything they do, deliver and produce. 
Whole organisation purpose —a coherent set of twelve non-negotiable principles 
In this course we will introduce you to the twelve non-negotiable principles of whole organisation purpose. Understanding and using this coherent set of MECE principles will enable you to find the core principles of your organisation and we will work with you to identify them with the core purpose Value Frame® and its software application lntent®. You will be able to explore how lead your organisation systemically, how its blockages in development might be dissolved and how your organisation's future potential can be unlocked. The set of twelve systemic purpose principles has been evidence proven to support and facilitate sound strategic decision-making and potent development, transformation and evolution within many organisations around the world, large and small. Experiences from successful business cases will be shared and you will learn how to connect any organisational question to strategic purpose and how to co-create optimal conditions for success.
Investment
The investment for the course for one participant is 4,000 euro. If you join together with a colleague the price for participation is 6,000 euro. Including a preparatory interview, workshop material and follow-up and including costs for lunches, excluding costs for dinner and staying overnight in a hotel in Amsterdam.
Detailed information and programme
In attached pdf you will find more information and the programme.-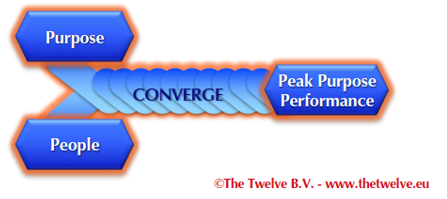 We look forward to welcoming you.