Every organisation has a core purpose, the capability to create optimal value for its customers through what it is and does. Mapping the non-negotiable principles of the organisation's core purpose at best allows coherent leadership and the creation of open teams, teams that are agile, self-directive, co-creative and able to adapt to our constantly changing environments. Clarity about core purpose enables the organisation to move as one towards a shared future, and to become all that it is capable of becoming. By aligning all the work with core purpose, everyone within the organisation connects to the difference their products and services can make to their customers. Kathelijne Drenth and Richard Leachman are consultants who have been working on mapping the non-negotiable principles of organisations' core purposes and the development of open teams for well over a decade. Their proprietary process, the Value Frame®, is an open source architecture that has the potential to enable all organisations to clarify and optimally implement their why and how. Most specifically, this can leverage the effectiveness and fluidity of collaboration within all teams, at whatever level, from board to shop-floor.
Continuïteit organiseren en duurzaam waarde creëren.
Continuïteit organiseren in je organisatie en duurzaam waarde creëren voor klanten in een wereld waarin verandering de enige constante is? CEO Jan Bergman van Beijer Transport & Logistics neemt je mee in vierenveertig jaar ondernemerschap en vertelt hoe hij op de schouders van zijn voorgangers het bedrijf van zelfsturend naar zelfsturend Rijnlands ondernemen heeft geleid.
Het geheim is eenvoudig, logisch en voor de hand liggend en een kwestie van willen en gewoon doen.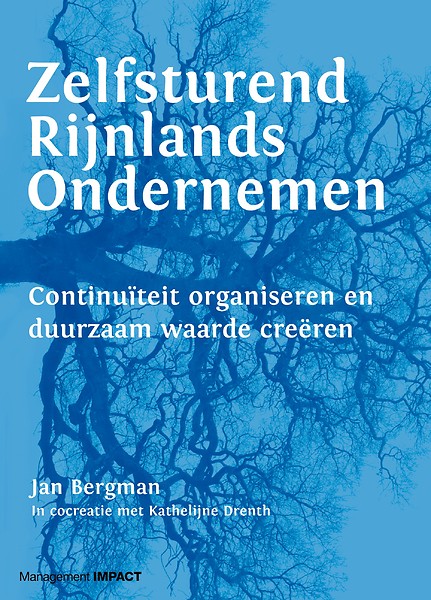 Het resultaat: Beijer draait prima jaarcijfers, heeft loyale klanten, medewerkers en andere stakeholders en kent nul procent ziekteverzuim. Hoe doe je dat toch Jan, hoe krijgt Beijer dat voor elkaar? Die vraag is Bergman dikwijls gesteld. Maar hoe leg je het uit aan iemand die in de eerste plaats bezig is met kostenbesparing en winstmaximalisatie.
Nu is het is dan zover. Met dit boek beantwoordt Jan Bergman juist die moeilijke vraag. Een truc? Nee, onmogelijk. Het is een keuze. In korte hoofdstukken maakt Bergman duidelijk wat er bij zelfsturend Rijnlands ondernemen komt kijken en wat het van de leider, medewerkers en stakeholders vraagt. Het is natuurlijk geen doel op zich. Continuïteit in een goede gezonde bedrijfsvoering met goede resultaten, door optimale waardecreatie voor klanten, met en in het voordeel van alle stakeholders. Dat is waar het om gaat.
'Zelfsturend Rijnlands ondernemen' maakt Bergman navolgbaar door biografische ervaringen af te wisselen met voorbeelden van binnen Beijer zelf, conceptueel vormgegeven en theoretisch onderbouwd door Kathelijne Drenth. Voor iedere leider, beginnend en ervaren, die zijn of haar organisatie zelfsturend wil inrichten, is dit boek een onmisbare wegwijzer. Iedere organisatie is natuurlijk anders, maar de principes die verweven zijn in dit boek blijven dezelfde. Ook voor de werknemer die op zoek is naar inspirerende verhalen om diepgang te vinden in werk en die mede gestalte wil geven aan de toekomst, is dit boek een aanrader.
Streeft u ook naar continuïteit in uw bedrijfsvoering en duurzame waardecreatie voor klanten met uw stakeholders? Lees dit boek en ga het gewoon doen.
"Boeken over Het Rijnland Model zijn vaak beschrijvend van aard. Dit boek maakt helder qua taalgebruik en inhoud hoe het er aan de binnenkant daadwerkelijk aan toe gaat. Knap!" – Jaap Peters, auteur van 'Het Rijnland Boekje'
In his book, Twelve Ways of Seeing the World, Mario Betti strives to make sense of the world through different lenses framed as twelve archetypes; Phenomonalism, Sensualism, Materialism, Mathematism, Rationalism, Idealism, Psychism, Pneumatism, Monadism, Dynamism, Realism and Humanus. Betti draws on the research of Rudolph Steiner and his twelvefold typology of human and cosmic thought to explore and validate each world view from its own unique perspective. In this way he means to transform dogmatism and enable a deeper dialogue.
The book includes a study guide World View by World View which comprises of templates for lesson structures and questions for discussion put together by the author Mario Betti and Kathelijne Drenth of the Cloverleaf Foundation, The Netherlands.