Empowerment – All our work; sharing concepts, knowledge and expertise, aims to strengthen your leadership and enables you to develop with your team and organisation, to the next level of "making a difference and having impact". And the purpose is that you will be able to continue this successfully and sustainably without us. That is why we, The Twelve, exist.
Progress implies development – if people develop themselves in their work, the organisation will develop itself.
Tailor-made collaboration – We respond to your question, align with where you are and build on what you have achieved and we work together with you for as long or short a time as you want, whether in prosperity and adversity. And while strategic progress in all work is sustained, daily business continues as usual.
Cut the crap – We focus on what is really important to you in your organisation and work, and on that with which you generate structural solutions and achieve sustainable results.
Inspiration in the future – In order to determine that one unified direction for you to be able to stay on the same page together, we help you to find inspiration and coherence together in "the future".
Forward thinking – our work is about framing your path forward and facilitating you to develop and make progress is our work, empowering you to move to the next level of integral collaboration with your team and organisation, and to create the future together.
Every organisation has a core purpose – Every organisation has been set up as a vehicle for people to make a difference with each other – a difference that you are unable to make in a loose connection or alone/ on your own. It is this core purpose of value-creation for customers and stakeholders that an organisation is all about. To organise coherence and progress sustainably, we consciously work with our clients with this in mind and action.
The Twelve's tailor-made approach embraces the following core processes: Why? So that we equip executives with the right process-frameworks to help them make progress and self-organise and lead their business continuity on the one hand, and systemic and sustainable value creation on the other.
• Envision the Future™: for co-creating an inspiring organisational (or team) vision of future success.
• Value Frame®: for co-defining the organisation's unique value-creation capability as at peak performance, identifying what it is capable of doing best (facilitated by Intent®, our proprietary software application).
• Iterance®: for iteratively co-creating and sustainably leading progress, transformation and innovation while navigating emergence, moving from generic to unique value-creation, from current performance to performance at best, and from managing and working in silos to co-creating and leading the whole organisation (or team) as one.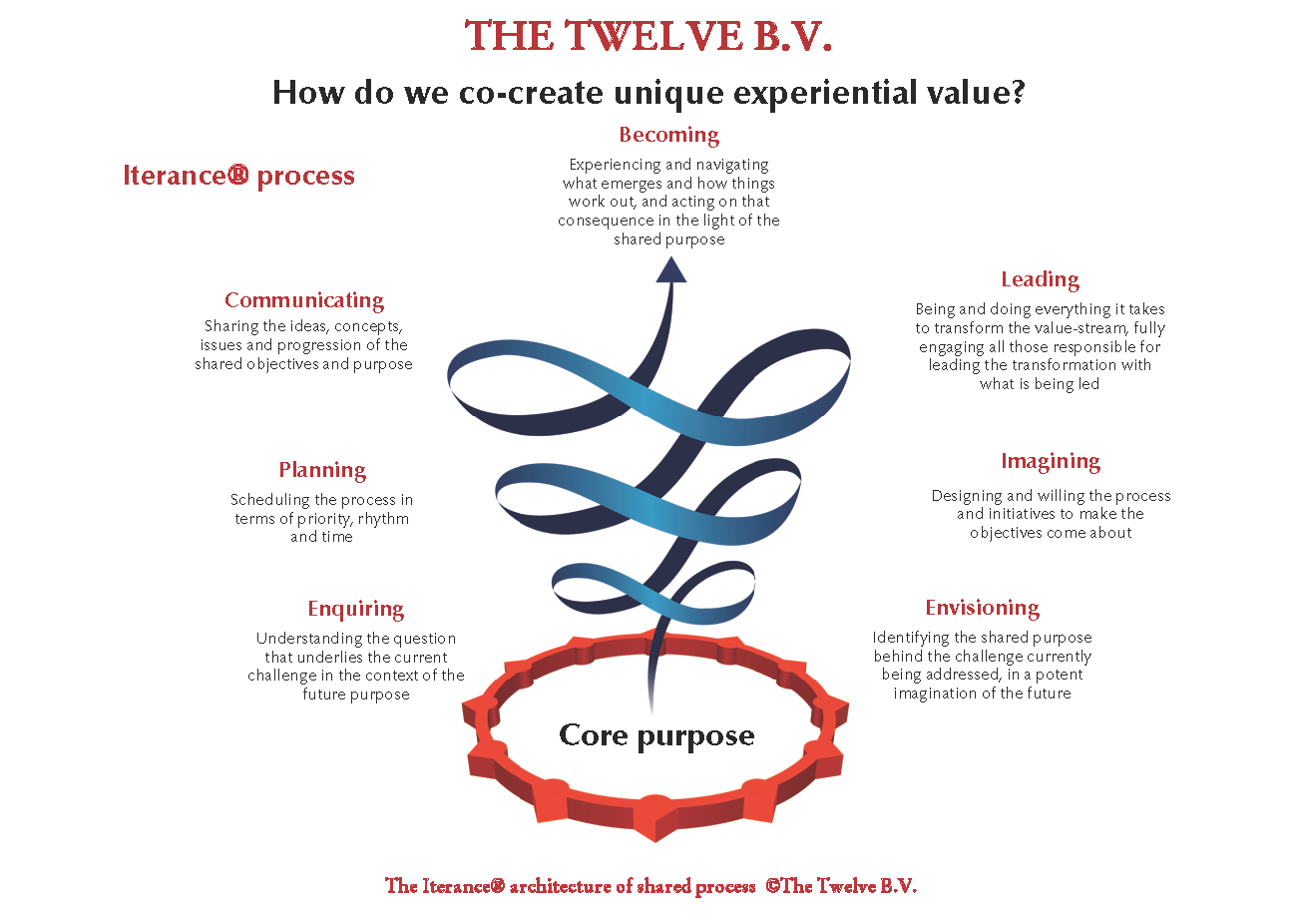 In cocreation with Acuity B.V. The Twelve B.V. developed The Value Frame® software Intent® to facilitate and strengthen the collaboration, transformation, innovation and acceleration of unique value creation around the organisation's core purpose within every action.
Our consultants, all seasoned partners in organising sustainable progress, are experienced in guiding our clients in their evolution towards thriving in a fast-changing complex world.
If your would like to learn more about our approach and about what we can do for you, do not hesitate to get in touch with us → link to contact form